Developing Products
middle stop position adjustable cylinder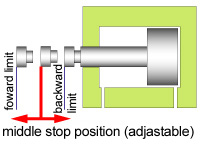 This is the cylinder can be
"stopped at desired position on the way of stroke"
. It differs from a usual cylinder, it can be set one middle stop position other than the forward limit and the backward limit. Moreover, the position can be adjusted.
Automatic Oil Cooling cylinder (AOC)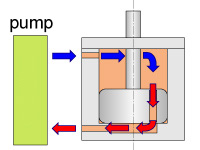 The Auto Oil Cooling cylinder(AOC) is being developed for the user that
"the cylinder becomes a high temperature. However, it is difficult to change equipment..."
The cooling effect is obtained by circulating hydraulic fluid between the cylinder and the tank automatically. Moreover, there is an effect of automatically exhausting the air from inside of the cylinder.